Yujileds® Flip Chip Technology
In LED lighting design, all lighting products hope to emit more light in smaller size, regardless of general lighting, photography lighting, plant lighting, and other application environments. Yujileds® Flip Chip Technology can meet the requirements and provide the solution of LED industry for high power density and relatively small size. Relying on Yujileds® Flip Chip Technology and combining Yujileds® High CRI Technology, the product design is more flexible and reliable with high-quality light.
Solution of limited space for LED components
Yujileds® Flip Chip Technology provide LED lighting source has a small light emitting surface (LES) and large luminous flux, thus it is usually used in directional lighting fixtures. It is perfect solution of that there is a limited space for LED components and require the large luminous output with a good reliability to operating. Based on Flip chip technology, super collimating light is achievable. We are able to control the LES and reduce luminous angle.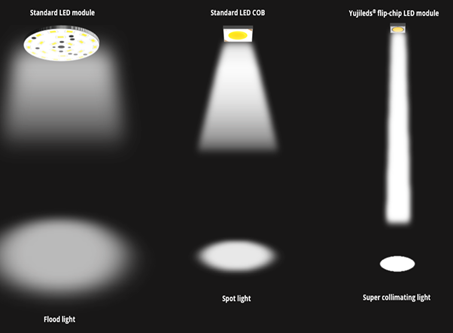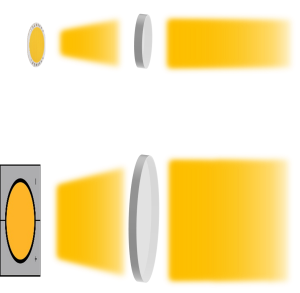 Less size makes optical design easy
Yujileds® Flip Chip Technology provide small Light Emitting Surface (LES) LED product make your secondary optical design easier. Smaller size not only refers to the LED itself, but also the size of all LED accessories, especially the optical design. When the LES size increases, the lens size will become geometrically larger. It makes lens impossible to fit into lighting fixture. Yujileds® Flip Chip conduce to lens design, simplifying the optical design with the small LES to accomplish the color mixing and makes more compact and portable light fixture realizable.
Flexible color combination
Yujileds® Flip Chip Technology reduces the size of an individual LED, we can put more different LEDs together for arrangement and combination while ensuring the luminous flux, according to that we release Yujileds® color matrix series products.
Yujileds® color matrix provides high-density illumination with high-performance white, tunable-white light, and full-color lighting options for a variety of applications that require focusing light, accurate chromaticity, and excellent color rendition.
Yujileds® spectral quality ensurance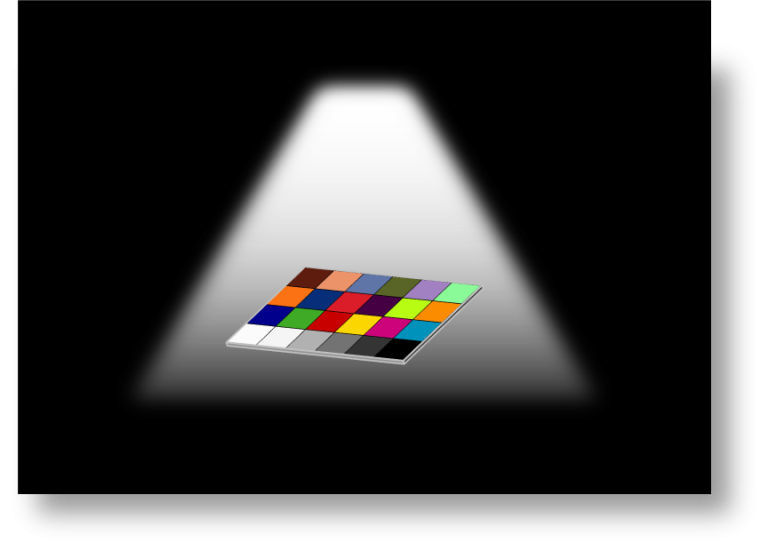 High CRI technology for the white light
The combination of Yujileds® Flip chip combines Yujileds® High CRI Technology guarantees high power with high-quality light to meet a variety of applications. There are many high-power light sources on the market, but we lack high-power LED light sources with high color rendering. Our product goal is to meet the needs of these customers. We have rich experience in producing high CRI (Ra>95) products. On the other hand, Ra is the standard CRI value we are talking about which is the average value from R1-R8. Beyond the CRI Ra(R1-R8), Yujileds® High CRI technology enhanced CRI R9 to bring true color rendering than normal LED.
High-color rendering is not the only standard for judging high-quality light sources. More accurate control of color temperature and color points also distinguishes us from other LED manufacturers. Precise control and a detailed database also help us to maximize the value of our customers' products. Yujileds® Color Accuracy & Consistency technology achieves accurate control of LED color in four aspects: Spectral grade contronal, Yujileds® Simple Binning solution, Yujileds® TrueChroma service, and Up to 0.0015 (CIE x,y) tolerance control. We combine our color control abilities with Yujileds® Flip chip to improve the lighting quality.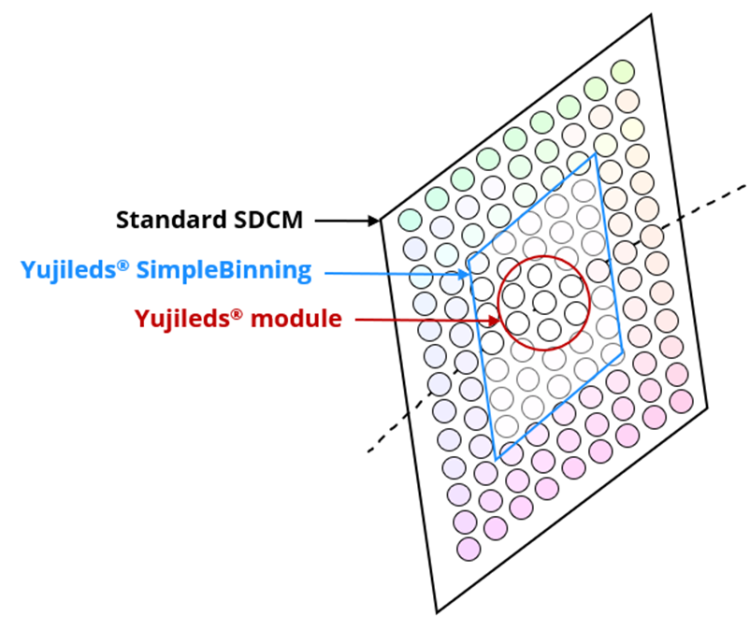 Customized service of Spectrum Customization is one of our unique service. Flip chip with customized spectral is available in Yujileds.  We have long-term stable cooperation with our chip supply partners. We force on phosphor industry has advanced research and development over the years. We have also developed a professional spectrum simulation software, which collates all commercially available chip and phosphor information on the market. Now, we open this software to all our users to explore and verify the feasibility, and finally we will help our users to realize customized products.
The unique of Yujileds® Flip Chip Technology
The flip chip technology can be easily understood from its name that the chip structural upside down and be mounted on the substrate. Compared with standard face-up LED packaging technology, wire bonding has been avoided in Yujileds® flip chip packaging technology, thus no risk of gold wire breakage. Due to the special structural advantages of flip chip, it is possible to arrange more chips in the smaller area. Comparing with standard flip chip packaging technology, eutectic bonding between LED chip and substrate in Yujileds® flip chip packaging technology result in excellent thermal conductivity for this whole device.
Reliable lifespan and stable performance by Yujileds® Flip Chip Technology
The maintenance rate of the initial lumen flux of the high lumen density COB under high-power driving mode is more than 98% after 9000 hours of continuous light up. The flip chip structure of the COB transfers the heat directly to the substrate, so the efficiency can be largely increased.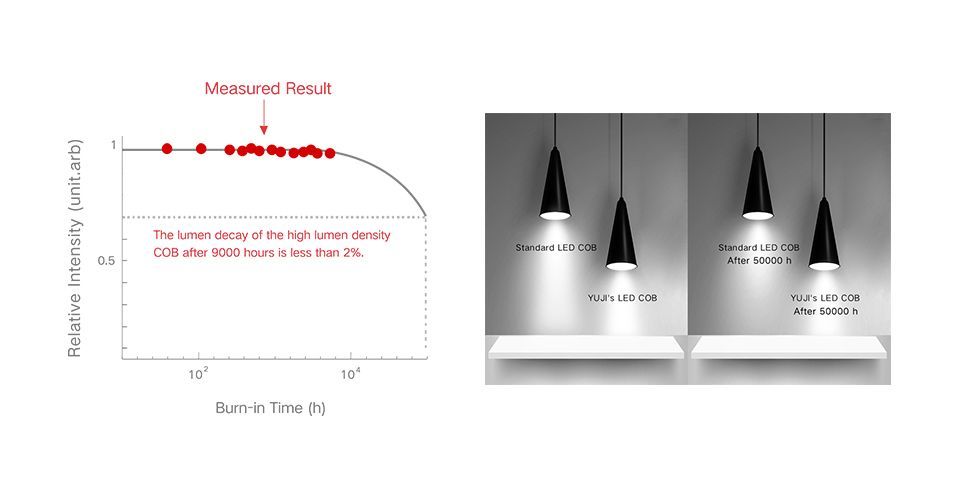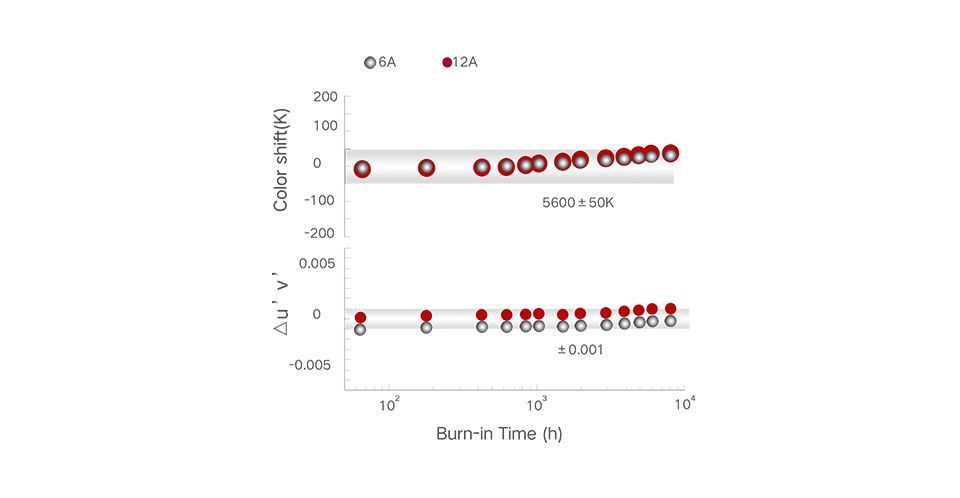 Extremely small color shift
The high lumen density of Yujileds® Flip chip COB shows a color temperature shift smaller than +/-50K after 9000 hours and the chromaticity shift from black body curve is less than +/-0.001.