Yujileds® PCBA/Module service is for presenting our high-performance LEDs precisely
To us, PCBA/module is not a simple SMT procedure but is to present Yujileds® high-performance features steadily and ensure product quality. The precision of lighting control to the integrated LED module is particularly critical since it is the same performance as the lighting fixture rather than the separated LEDs which are not the same concepts when assembling the final lights.
Do you know the LED module performs differently than the separated LEDs?
We have been experienced many cases of the complaint that the performance of the LED module is different than the separated LEDs, especially after the diffuser and optical lens, then the actual specifications deviate from the original designs. Hence we will do the reverse engineering to re-design the LED and module to reach the target of the original design without deviation, aiming to achieve the absolute precision.
We focus on the full line of R&D, manufacturing and quality control of Yujileds® PCBA/Module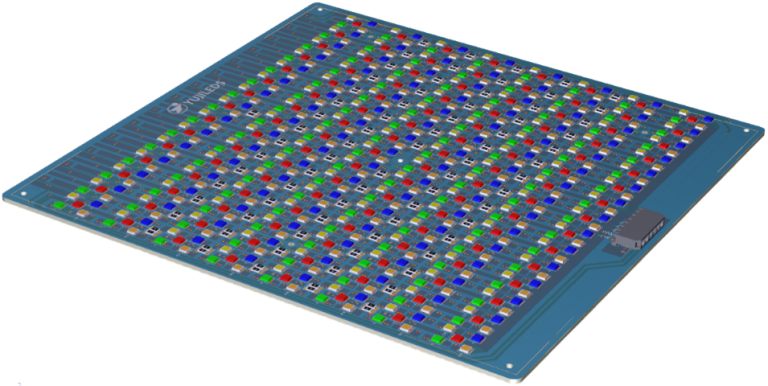 The difference between the general SMT manufacturing and Yujileds® PCBA/module service is that we focus on starting from the phosphor and LED die R&D, matching to the module layout design, overall performance achievement, and quality control. We regard the module as decomposed sections and take necessary and effective methods to achieve the targeted specifications. Confidently, we are one of the few experts who can resolve the precise control and supply the satisfied products.
Our know-how and service for Yujileds® PCBA/Module
Besides the SMT procedures, we contribute our know-how of LED and module technologies, elaborate service including specifications, historical test reports tracing and analysis, and professional consultancy, the featured items are summarized to reach the consensus with customers that those of which are exactly needed

When Yujileds® LED plays the key role that determines the performance of the light directly, the Yujileds PCBA/module becomes the first choice for achieving the targeted performance for the projects.

Discrepancy between the separated LEDs and the module will be generated and we help to resolve this challenge to reach targeted performance and ensure the consistency with balanced cost performance.

We provide the formal datasheet for the customized modules for customers when necessary, aiming to offer the general evaluation and reference to ensure the product specifications are controlled to match the requirements.

Relevant data from historical test reports for every batch/LOT are kept for Yujileds® products to help with tracing and analyzing the raw materials and manufacturing progresses, prepare the solutions in advance.

Technical-oriented projects always mean confidential demand for the specialized information, we provide the NDA (Non-Disclosure Agreement) to secure the protection for customers.

Our experts are from different fields of semiconductor, chemistry, optics, photoelectricity, circuitry, materials and color science, providing professional consultancy based on Yujileds® products.
Product selection for Yujileds® standard PCB