Review of Hong Kong international lighting fair (Autumn edition)
Organized by the HKTDC and held at the HKCEC, the Hong Kong International Lighting Fair (Autumn Edition) is the largest autumn lighting fair in Asia. Exhibits include advertising lighting, commercial lighting, household lighting, LED & green lighting, lighting accessories, parts & components, outdoor lighting, smart lighting & solutions, testing, certification & inspection, along with Hall of Aurora for branded lighting.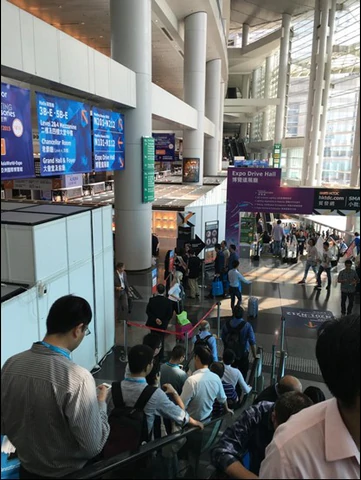 For Yuji-led, we have visited almost all of the large lighting fairs in the world, certainly, we didn't want to miss the famous one, Hong Kong lighting fair autumn edition. Hong Kong Lighting Fair is spread on three different floors; small lighting manufacturers, power supply, lighting accessories, parts & components manufacturers were all concentrated on the ground floor which I went first. Most of the manufacturers on this floor came from the Chinese mainland and they are not famous. the exhibition boots were very simple, the purposiveness of these exhibition boots was plain and simple, it is just for showing their cheap and fine products to the buyer and settling the small deals. The ground floor of HKCEC is semi-underground, it's probably because in Hong Kong there isn't enough space, and every inch of space is too valuable. In my opinion, this area didn't worth too much of my time, so I have decided don't spend too much time on the ground floor.
Here is something that interested me on the G floor: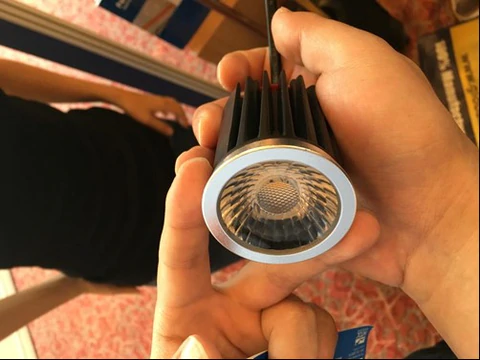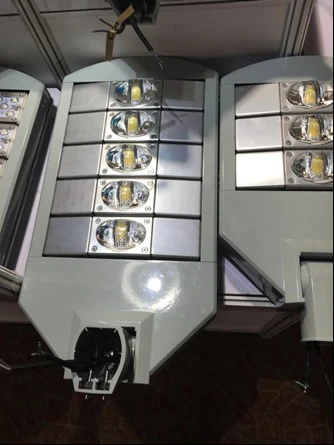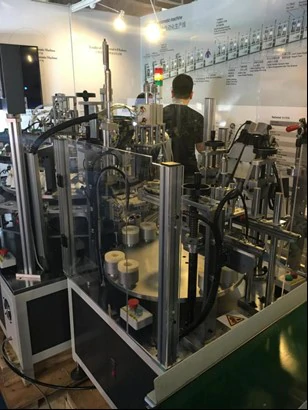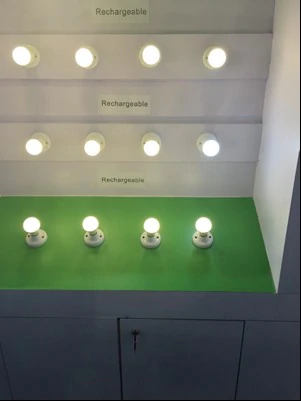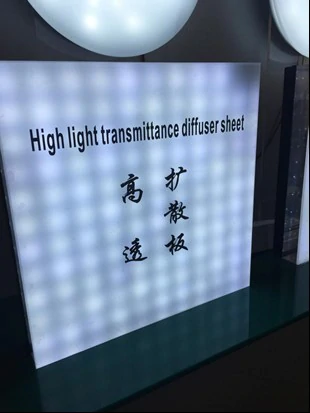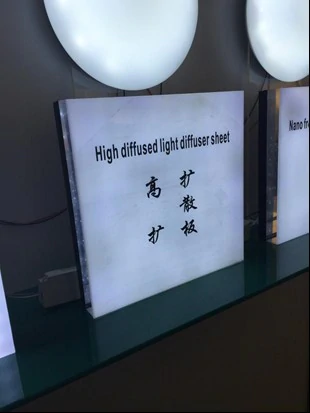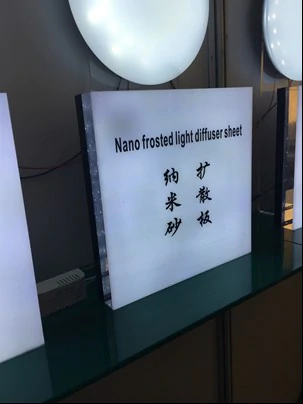 After I've had my lunch, I've recovered some strength. Hall of Aurora is the key point of my visit, however, I've decided save the best for last. Skip the second floor I put my foot on the third floor, the exhibition on the third floor specialized in advertising lighting, commercial lighting, and household lighting. This area was much bigger than the ground floor, almost the same as a soccer field. As for the exhibitor of this hall, most of them were still from the Chinese mainland, after taking a look inside the hall I instantly understand the reason. If you have ever been to a Chinese lighting market in Beijing you will feel very familiar with it. Indeed, the appearance of the lamp is very important, some beautiful lamp was breathtaking. However the outlook of the lamp is very easy to simulate and the creative appearance will run out someday, so you must have some core technology to compete with other manufacturers.
After visiting a few boots, I have discovered there aren't any exhibitors showing anything related to their technology such as CRI, to be honest, that is a little disappointing to me. So when I saw a manufacturer introduce CRI of their product I instantly decided to have a little chat with their salesman. The exhibitor came from Shenzhen and at the conspicuous place of their exhibition they put two same color boards irradiated by two different lights, one of the lights shows CRI95 and the other one shows CRI 80. As we know CRI represents the average value of R1-R15, and R9 (red) is the hardest to achieve, therefore it's necessary to find out what value of R9. However, when I throw these questions to the staff of this company, the answer their response quite shocks me, all of them seem never heard of R9 value. After a while, one lady seems to be their manager told me the R9 value of their product is 10, anyone who has some common sense about CRI knew that if the CRI is 95, R9 can't be just 10, it's even just a simple math question. The unprofessional of their staff makes me highly adopt the quality of their product. but differ from other buyers I bring my portable spectrometry with me after I get a permit from their staff I have tested the light with my equipment, and the CRI of their light was surprisingly higher than I expect, looks like they didn't boast about their product. However, most of the buyers didn't bring any equipment with them, if they heard such an unprofessional answer from sales, they might be walking away and that is such a loss for the exhibitor.
To be honest, I was a little disappointed after I meet such an unprofessional exhibitor, however, when you throughout the global LED market you could very easily find out the reason, high end LED market is still dominated by famous brands, most of the manufacturers that came from Chinese mainland still haven't found out how to ascend to the ranks of the high-end manufacturer. As far as I am aware. Improving their R&D capability and uprise the professional level of their employee is the first thing they need to do if they wish to be at the top of the industry.
For me, the appearance of the lamp is not the only thing I'd like to see in the autumn edition, what I want to see is the dominator of the market, a high-end lighting manufacturer. After I found myself in the hall of Aurora, I realized I didn't waste my time at all. There were some specified brands Such as Cree, Citizen, Seoul Semiconductor, and LUMILEDS(Philips), they are all of the most attractive exhibitors for me.
At Seoul Semiconductor, there was a new product called WICOP, it is an SMD without package and wire. WICOP with its small form factor provides market-leading color uniformity, is cost-saving at the fixture level with high lumen density, and allows design flexibility, it will very much help to reduce the number of LEDs and PCBs size. While common chips for high/mid-power go through multiple thermal interfaces between the chip, package, and PCB, WICOP enables excellent thermal characteristics with a direct thermal path to the PCB.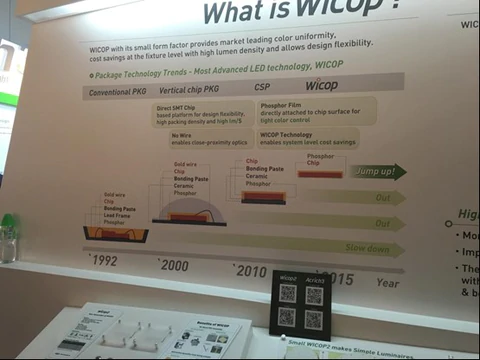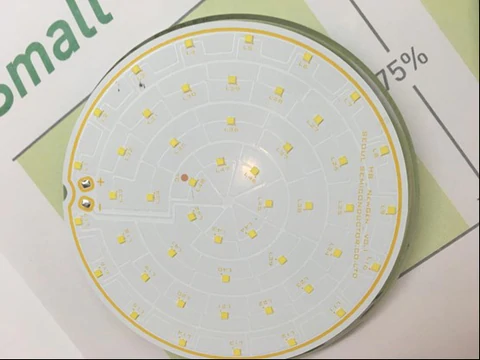 Lumileds has been sold by Philips, however, it still uses a chip from Philips. Lumileds specializes in commercial lighting by plus 410nm purple wavelength to excite the fluorescent in the fiber of clothes.
Due to the reason that I have had some appointments with clients from Australia and Europe, I didn't have enough time to go through all of the fairs. When I talk to my client they all shows a little disappointment with this year's Hong Kong lighting fair, they both told me that there weren't any new things that interested them, I think that is probably because more and more businesses went through Internet nowadays and exhibition start become a second choice for both seller and buyer.